How to Market Your Pet Business On Facebook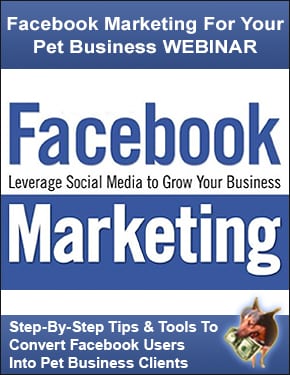 Facebook ads are one of the most powerful marketing tools you can use today to gain new clients online quickly and easily for your pet business!
When you use Facebook ads correctly, you can effortlessly get local clients in your city and neighborhood (even if they have never heard of you before)!
In fact, every day you could have a steady flow of leads…from your PERFECT CLIENTS!
The truth is, your clients are already on Facebook, and they WANT you to find them.  You have a very valuable service they need!
When done right, Facebook ads can help you gain a huge return on investment—with a large amount of exposure for your pet business with ads viewed by your IDEAL LOCAL CUSTOMERS who are READY TO BUY YOUR SERVICES RIGHT NOW!
So many pet business owners are frustrated by the complexity of running Facebook Ads and feel unsure about how to measure the success of their ads (or even disappointed with their results).
The amount of options in Facebook's Ad manager can be overwhelming…and many people give up before they really even begin.
Perhaps you took the plunge into Facebook advertising and dabbled on your own, only to hit a wall and wonder what you're not doing right because you didn't gain a single client from it.
Or you may have never even explored Facebook advertising, even though you realize it could be a really great way to reach local pet owners and get a lot of new clients.
Whatever the case may be for you…when it comes to Facebook advertising, don't worry!
If you are ready to tap into the power of Facebook advertising to gain new clients for your pet sitting, dog walking, dog training, pet grooming or doggy day care business, you won't want to miss this information-packed online course.
Julie Ostrand from Woohoo Agency is leading this empowering online course. Teaching business owners how to use Facebook Ads is her Super Power! With over 15 years in the marketing industry (and a background in web development, graphic design and copywriting) she runs an advertising agency that is laser-focused specifically on Facebook Ads.
Her intimate knowledge of how Facebook actually works, will make your local service business wildly successful, by funneling a large volume of qualified "ideal customer" leads to your business every single day.

You will walk away from this online course feeling confident and empowered to start marketing your business on Facebook now!
By Attending This Online Course You Will Learn:
WHEN TO START: How to know when your business is ready for Facebook ads
POWERFUL RESEARCH: A simple way to do quick research to guarantee your ads will work
WOW IDEAS: Ways to come up with "Wow Ideas" that your potential clients will love and you'll also learn how to choose the right "offer" (special promotion)
PERFECT AUDIENCES: The best method for lasering in on your "ideal customer" and choose audiences, without wasting money on the wrong people
SIMPLIFIED BACK-END TOOLS: How to find your way around the Facebook Ads Manager so you feel competent and ready to begin advertising
INSIDE SCOOP: Keys to understanding the Facebook "Black Box" and how the algorithm actually works
SECRET FORMULA: How to measure the effectiveness of your ads so you can make money with Facebook and an easy formula for how to scale ads to leverage every click to make your investment profitable
You Will Walk Away From This Online Course With:
A clear picture of how Facebook Ads work and the 5 keys to creating powerful ads for your pet business
The mystery of the "Facebook pixel" unlocked…and why this tiny bit of code that goes on your website can transform your business
Insider knowledge on the number one biggest mistake you can make with Facebook Ads and how to avoid it
3 easy settings you can use in your Facebook ads to get better results quickly
A clear understanding of how to fit Facebook ads into your existing marketing strategy
Simple, effective techniques to make your Facebook ads perform better than you ever thought possible
Advanced techniques to help you reap even more clients from Facebook ads
The "Essential Facebook Ads Tips and Tools" Booklet
This 75-minute online course is available for immediate watching and listening from your computer or smart phone NOW.
Order the Facebook Marketing for Pet Business Owners online course today and start advertising to local pet owners right away!