How to Use Google Ads and Pay-Per-Click Ads in Your Pet Business to Gain More Clients and Boost Sales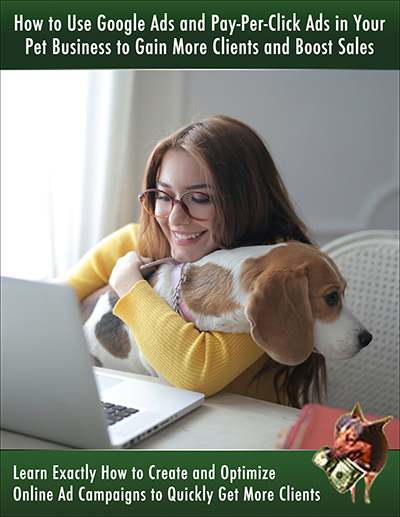 Now, more than ever, it's crucial for pet business owners to fast-track their online marketing, in order to experience success with online advertising. By measuring, securing, and applying data-driven methods you can learn how to market your pet sitting, dog walking, dog training, or pet grooming business quickly, easily, and effortlessly – and in ways that will reap results!
In this online course, guest speaker Josh Martin, Digital Marketing Director at Boulder SEO Marketing will outline exactly how to use Google Ads and pay-per-click ads in your pet business in order to gain more clients. After learning from the information in this online course you will be able to easily set up your own Google Ads and pay-per-click ad campaign! Pay-per-click is the most well-known and established forms of digital marketing. You are likely familiar with seeing these types of ads at the top of Google.com. Many pet business owners, especially those who live in heavily populated towns and cities, find that in order to get to the top of the search engines, they absolutely must utilize Google Ads and pay-per-click campaigns.

In addition to pay-per-click advertising, you will learn the fundamentals of Image advertising through a system called, "remarketing". Remarketing allows you to show ads to only well-qualified people. For example, you could use remarketing to choose to only show ads to pet-owners near you. These can help you not waste time on less-fruitful marketing and enable you to make your marketing dollars work for you!
Pet service providers are in uncharted waters as clients are now changing their buying behaviors in ways the pet industry has never seen before. Even pet business owners who have skillfully marketed online before will gain a lot of value from exploring the proven marketing methods of Google Ads and pay-per-click advertising. In order to gain new clients, pet service providers must explore new marketing methods and Google Ads and pay-per-click ads can help you turn potential clients into actual clients in new ways.
In This Online Course You Will Learn:
Trends in marketing Googles marketing operations and strategy in an evolving economic and customer behavior environment and how that affects your business
How to navigate the changing habits of pet owners and consumers
The most effective and up-to-date pay-per-click advertising techniques for pet business owners
The basics of image advertising and how you can target pet-owners with remarketing
A live, behind-the-scenes demo to show you exactly how you can create your own Google Ads campaign
After Attending This Online Course, You Will Walk Away With:
Knowing exactly how to create and manage your own Google Ads campaign
What it takes to create compelling pay-per-click ads that really work
An understanding of how to measure and track your success
The ability to effectively manage your advertising budget in Google Ads
A Google Ads and Pay-Per-Click Tips and Tools booklet to guide you after the online course is over
Order the How to Use Google Ads and Pay-Per-Click Ads in Your Pet Business to Gain More Clients and Boost Sales recording.