Get Started
This course is currently closed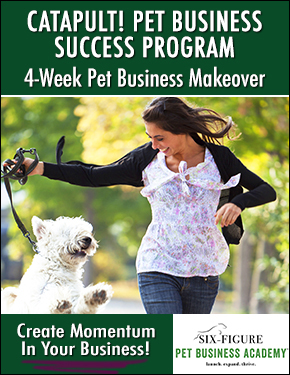 Take your pet business—and your personal freedom—to the next level with this content-rich online course that you can start whenever and wherever you like.
This is a comprehensive, lifetime access learning experience complete with mapped out tools for success so you can reference it today, tomorrow, next month, or years from now!
Get ready for four weeks of guided class recordings and inspiration to fulfill your biggest dreams for your pet business—and solid instruction for how to achieve them! You'll learn real-life troubleshooting examples from business owners just like you plus weekly action steps that move you towards your goals. Gain access to an exclusive, private Catapult Facebook group where you'll interact with likeminded professionals who are there to support each other and use the printable Catapult guidebook with quick-reference notes from every class to assist you in continuing to hone your pet business skills.
Course Materials and Extra Information Before Starting
Course Materials and Extra Information Before Starting